While the bones of the building were satisfactory, the Old Post's structure had deteriorated significantly since the post office closed in the 1990s.
The restoration and renovation has encompassed all four levels of the Old Post, inside and out. Ensuring that the building will stand for another 100 years continues to be an important consideration with every project phase and upgrade. The revitalization of downtown Harriston and the economic development of the Town of Minto key factors in the The Old Post's restoration, and as such we strive to use locally acquired labour and materials whenever possible. The Hendrick family has invested more than $500,000 dollars to date.
The main and second floors were the focus of the initial interior renovations, returning functionality as a multi-use commercial space. The first and second levels are currently the location for six profitable businesses and services: Escape the Old Post, Hair Therapy, Mailbox Coffee, John Nater, MP, Perth-Wellington,Polished (inside Hair Therapy), and Triton Engineering Services Ltd. Learn more about our building's community here.
The Hendrick's have also breathed new life into overlooked and under utilized areas of the building. The attic is now a busy hub of social entertainment with Escape the Old Post, which has welcomed more than 3,500 players since its opening in January 2018.
Restoration of the building continues in the lower level with a recently opened certified commercial kitchen, meeting and event rental space in The Post Script. Plans and the build out of a second escape room in the lower level are also underway.
clock & Bell fundraising campaign
In 2015 and 2016, The Old Post restoration project captivated local residents and businesses. While the majority of renovations have been and continue to be funded with private capital, an estimated $17,500 was needed to support the restoration of the original clock, bell and tower – the heart of downtown Harriston. 
We are grateful for the support of community members, residents, local businesses and organizations in helping us achieve our fundraising goal and bringing this important community landmark back to life.
All donations have been used to complete repairs to the existing structure, including: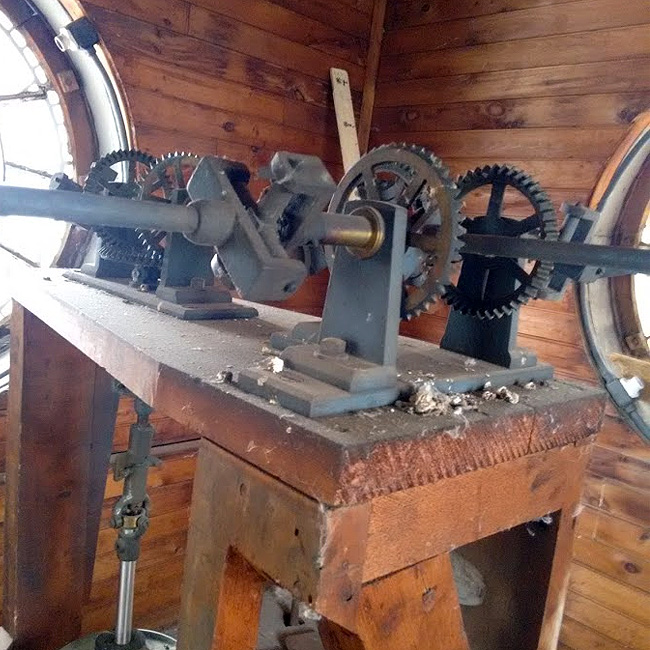 Returning the original drive, controller and gears powering the clock and bell to operating condition
Individuals & Families
Anonymous
Anonymous
Dave Anderson
Brian Baldwin
Gloria Beyer
George A. Bridge*
Ann Clark
Lynn Collins
Brion J. Cole**
Doug & Sharon Davie
Nancy L. Dietrich
Jana Dodds
Rita Doig
Alice Douglas
Marjorie Douglas
Gordon R. Duff
Krista & Terry Fisk
Eleanore Gordon
Jane Gibson
Kathryn J. Gorman
Warren & Lori Grein (In Memory of Jim & Joan Gilbert)
Anne Haayema
Mary Jean Hartwig
Agnes Hawkins
James Hendrick
Sarah Hendrick
Sheelagh Hendrick
Dr. Carol Homuth
Mark & Lisa Leslie**
Ron & Gerry Leslie**
Donald W. Matthews
John & Patty Mock
Isabell McCutcheon
Paul & Sharon McKnight
Don & Jackie McPhail*
Charles Mifsud
Mike & Cheryl Reidt & Family
Liz Rourke
Jonathan Schinkel
Gary Schinkel
The Sippel Family
Tim Sparks
Annette Tilden (In Honour of Derek Tilden)
Annette Tilden (In Honour of Willa Wick)
Judy Tuck
Dr. Bill & Rose Van Sickle
Jokelee Vanderkop
Hubertus Von Westerholt
Robert Walley
Sharon & Kim Weber
Businesses & Organizations
Clera Windows & Doors
Fisherlea Farms Inc.
Harriston Curling Club
Harriston Historical Society
Harriston Horticultural Society
Harriston United Church Ladies Auxiliary
Ladies of the Beach (In Loving Memory of Meg Burrows)
Lavolit Properties Inc.**
Minto Arts Council
McIntee Real Estate
Harriston 55+ Club**
Minto Retirees Group*
Royal Canadian Legion – Branch 296 Ladies Auxiliary*
Town of Minto Mayor's Golf Tournament**
Triton Engineering Services Ltd.
*$500 Bronze Sponsor    |    **$1,000 Silver Sponsor   |    ***$2,500 Gold Sponsor